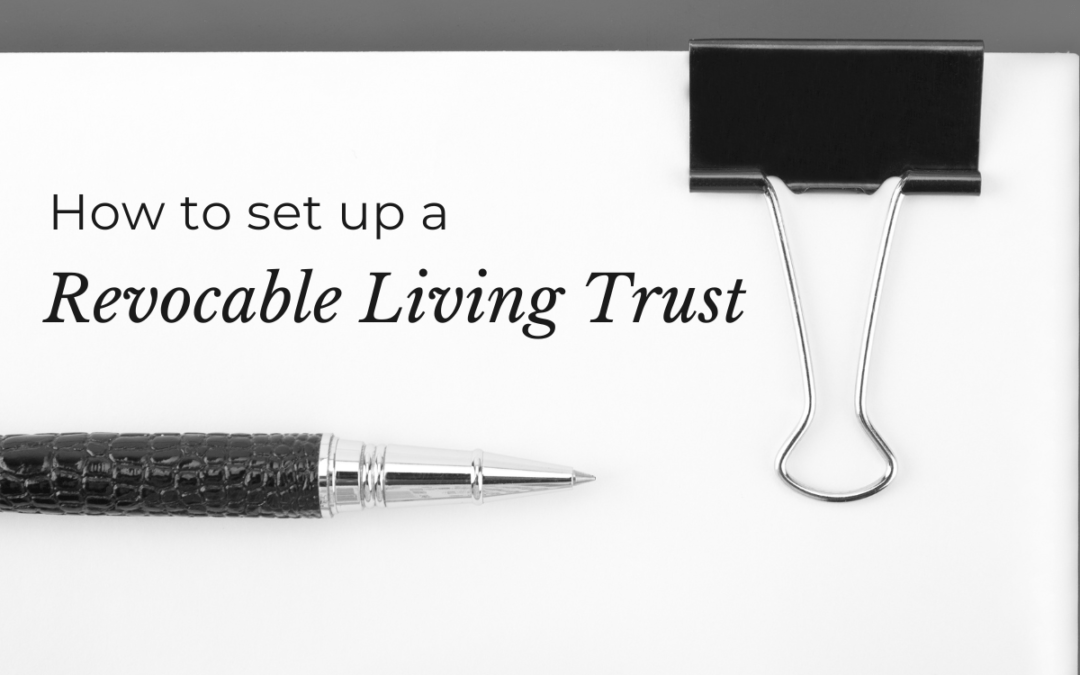 April Harris Jackson is an Elder Law attorney based out of Nashville, TN. She is also a Chairperson of the NBA Estate Planning and Probate Committee.
You don't have to be wealthy to benefit from creating a trust fund! Create a revocable trust with our Nashville attorney as a part of a well-thought-out estate plan. All it takes is proper planning and administration. Come learn the basics with us!
What is a Revocable Living Trust?
A revocable living trust (also known as a living trust or revocable trust) can be a great way to help your loved ones protect their wealth and pass it down to future generations. It does this by creating a legal arrangement in which assets are placed within a "trust" and managed by a trustee(s). In most cases, when you set up a revocable living trust, you are also the trustee.
Why would I want to set up a revocable living trust?
There are many benefits to setting up a revocable trust to pass on your assets. One of the main reasons someone sets up a revocable living trust is because they want 100% control over how and when the assets will be used. This provides protection for your assets and prevents mismanagement. Many people prefer to set up a trust over a will because it provides a private, and hassle-free transition of assets to the family. You can set up a trust to fund many of your family's future financial needs. For example:
Use a trust to pay for college
Parents often wonder if they should fund their children's college education through loans, a 529, an IRA, or a trust. There are pros and cons to each option, and it ultimately comes down to what the parents feel is best for their family. A trust can be a little more flexible and offer a way to provide a continuous flow of benefits. This is perfect for a parent that wants peace of mind when it comes to their child's future.
Provide financial support for a person with a disability
Estate planning for someone with special needs requires a lot of consideration. A trust is a powerful tool that you can use to provide financial support. While Special Needs Trusts are unique and irrevocable, an attorney can create provisions for a revocable trust to become irrevocable after your death. Special Needs Trusts provide stability and predictability in a person's life, allowing them to maintain financial stability after you are gone. It can also help an individual with special needs remain eligible to receive Medicaid benefits. If you are worried about supporting a person with a disability, reach out to us! Our team is here to help.
Use a trust to donate to a charity
A trust is a great way to simplify the process of donating to a charity. Using a trust to fund a charity is private and much easier to create than a foundation.
Pass down your large assets with a trust
A trust can be a great way to pass down large assets, such as a house, to loved ones without having to go through probate or other legal hassles. This is because a trust agreement creates a legal document that outlines who will own the property and how it will be managed. Certain types of trusts can also protect your assets from being taken away by creditors or the government.
Determining Whether a Trust is Needed
When creating an estate plan, one of the decisions you will have to make is whether a revocable trust is needed. If you want to do something more complicated than an outright transfer of assets at death, a revocable trust is probably right for you.
Advantages of a revocable trust
Here are some of the advantages of a revocable living trust in Nashville, TN
Avoid probate – If you're like most people, you want to avoid your family being exposed to the lengthy process of probate court. A well-managed trust negates the need for this.
Privacy – Privacy is a cherished commodity and many of us would like to have some degree of privacy when it comes to our finances. A revocable trust can provide a way for people to have privacy while still maintaining control of their assets, even after death.
Provide for future generations- A revocable trust can distribute outright at a certain time or may provide for generations past the creator's own children. If you have concerns about how your children or their spouses may spend their inheritance, a trust can be a way to make sure that assets are used in a prudent way and preserved for future generations.
Disadvantages of a trust
Hiring an attorney – The upfront fee of hiring an attorney can intimidate people and can be seen as a disadvantage to setting up a trust. However, the cost should not be a determining factor. An estate planning attorney will understand the legal system and its implications on your estate.
Asset accessibility – A family trust may be less accessible to beneficiaries than other types of estate plans.
Difficult to change – It can be more difficult to change or revoke a trust than a will.
Revocable living trust vs a Will – What's the difference?
The difference between a living trust and a will is mostly timing and control.
A revocable living trust allows you to change the terms or revoke the trust. It "lives" and operates alongside you while you are alive. This is important because it gives you the ability to control your assets and make decisions about how your money is used. You can also change your mind about how your money is used or who gets access to it after you die.
A Will, on the other hand, only goes into effect after you die. It specifies to the probate court how you wish for your assets to be transferred.
A revocable living trust is designed to become irrevocable after a certain event occurs- often the death of the first spouse in a long-term marriage.
Step-By-Step Guide: How to set up a revocable living trust
Step 1: Hire an Estate Planning Attorney near you
Regardless of the size of your estate, you must get counseling from a qualified estate planning attorney in your state. While every law firm is different, most follow a process that is similar to this:
How to hire an estate planning attorney
Reach out to a law firm
At Graceful Legal Services, PLLC, we offer you the chance to see if we are the right fit for each other first. The first step is to schedule your free 15-minute call. During this call, you will discuss your needs and your situation. Our intake coordinator will let you know if we can help you and give you an estimate of the attorney's fees. If we are a good fit, and you decide to move forward with our services, you will be invited to schedule an hour-long Strategy Session with our attorney.
Do a paid consultation with an attorney
At GALS, we offer an hour-long Strategy Session. At your Strategy Session, you get to discuss your situation with our attorney, ask questions, and share concerns. After our attorney gets all of the details, they will provide a recommendation to fit your needs. They may recommend a specific kind of trust or discourage you from making one altogether. Our firm will also provide a step-by-step plan of action that you can use to achieve your goal. In other words, get a consultation with an estate planning attorney to help you decide what is best for you based on your assets, your family situation, and your goals.
Hire an attorney to carry out your plan
After your consultation, you will know if you need to hire an attorney. Let's assume that you do at this point. It will be up to the firm to send you their contract for legal representation. We call this a "Representation Agreement". Once you sign the Representation Agreement and pay the retainer fee, you become a client.
A word of caution:
Please do not set up a revocable trust online or by yourself. While we would love to send people to a less expensive option, the truth is that things get so messed up when you're dealing with trusts. Our firm has tested many of the will and trust drafting software (curiosity killed the cat, right?) and there's a lot of room for error. You cannot imagine how messed up a trust like this could be.
The key point is this: If you are going to set up a trust, hire an estate planning attorney to discuss your options. There are rules that need to be followed in order for a trust to operate correctly.
Step 2 – Gather Information Needed to Create a Trust Document
A trust document is an important legal document that sets forth the terms and conditions of your trust. Your estate planning attorney will be responsible for the meat and potatoes of the trust document. However, you will be responsible for knowing who the players will be. You will also be responsible for outlining the assets and property you would like to place within your trust.
At GALS, we use decision-making software that makes everything easier. If you would like to get a glimpse of the software, consider taking our Virtual Estate Plan Challenge. With this 7-email series, you will be guided through thought exercises to prepare you for creating your estate plan. At the end of the challenge, you will be invited to try out the software. It costs nothing and it's easy!
In order to understand the trust document, you need to be familiar with these legal terms:
Legal Terms in a Trust Document
Grantor
Grantors are the individuals or entities who transfer assets and property to the revocable trust. A grantor is a person who signs the trust document as the initial settlor.
Initial Settlor
The person who sets up the trust. Same as the Grantor.
Trustee/Executor
The person or entity who administers the trust. You can have more than one trustee but it's not common. Sign up to watch this Webinar: It Takes Two, or Does it? if you would like to learn more about having multiple trustees or executors. The trustee you choose must be completely trustworthy. Choose your trustee wisely. If you are unsure about trusting someone you know, hire an attorney or a Trust Company to act as the administrator of the trust.
Successor Trustee/Executor
The trust document lists who will be the successor trustee in the event of incapacitation or death of the first trustee.
Beneficiary(s)
A beneficiary in a revocable trust is someone who receives benefits from the trust, such as income or property. The beneficiary can be an individual, business, charitable organization, or any other legal entity. A trust can have one or more beneficiaries. The beneficiaries may receive the trust property either immediately or at some later time. A trustee must distribute the trust's assets to the beneficiary whenever the trustee determines that the beneficiary is entitled to those benefits. The beneficiary's name(s) must appear on the trust document.
In addition to naming beneficiaries and how you will fund the trust, you will also need to outline how the trust assets will be managed and distributed. What are your terms? Do you want your children to inherit from the trust at a certain milestone or date? Do you have stipulations you would like followed? Your attorney will make suggestions of what to do.
Step 3 – Sign and notarize the trust agreement
The state of Tennessee requires that the trust agreement must be signed and notarized in person. The process of notarizing your revocable trust provides a layer of security and helps to prevent fraud. It also helps to confirm validity after the grantor dies.
Step 4 – Transfer assets into the trust
Every asset that you want in the trust needs to be transferred. This means that all titles (house, bank accounts, etc). need to be transferred and renamed to that of the trust's name.
In conclusion
Setting up a family trust in Nashville is a relatively simple process that can provide a great deal of financial security for you and your loved ones. By following the steps outlined in this article, you can rest assured that your assets are well-protected.
If you are considering hiring a lawyer to set up a trust in Tennessee but are unsure if it is the right option for you, don't hesitate to schedule your initial call with us. We can help you determine if trusts are right for you and if we can help create one that meets your specific needs. Our free 15-minute call can provide you with the information you need to make an informed decision.