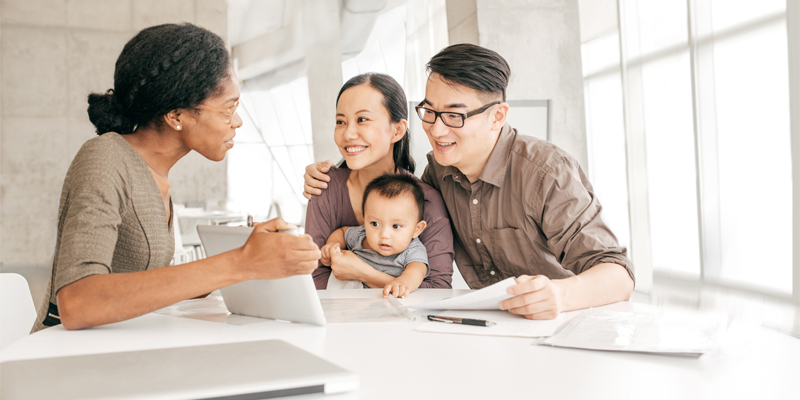 Talking to your parents about aging, illness, and death is hard. It's one of the hardest conversations you can have–but it's also one of the most important. The feelings that might come up during the conversation, if uncomfortable, are better than the feelings that would otherwise come up when an emergency happens and there is no plan in place for taking care of them (or even a consensus among relatives on how to move forward). As we always say in our office: "it is better to have a plan and not need it than to need it and not have it."
With that said, directly asking a loved one "hey, what would happen if you died today?" might not be the best way to start the conversation. So let's consider some better alternatives to open the conversation about estate planning.
1. Tell your loved one what you're doing for your own estate planning
Telling your loved one about your own estate plan, or your wishes to create your own estate plan, might make them consider making one themselves. Tell them what is in your Last Will and Testament, whether you have a Trust, and who you have chosen to act as your Power of Attorney. Hearing about your concerns for your own aging and death, and hearing how you've decided to navigate the future, will give them an idea of where to start, which is often the hardest part. Many people also struggle to decide on an estate planning attorney. It is important that the Nashville attorney they hire aligns with their needs. Hearing about your own process of hiring an attorney, and how you determined which one would be the right fit for you, can help them navigate the difficult world of hiring a Tennessee Wills and Estate Planning lawyer.
2. Talk about other situations that have happened that worried you or made you curious
Many of us know at least one person who has suffered the loss of a loved one and then had to endure the resulting feud among the family. These feuds happen so frequently that a significant number of fictional stories are based on them. Unfortunately, plenty of them could have been avoided if a clear plan had been put in place. And these feuds rarely start right after the death—many of them start much earlier, when the loved one's health began to decline and someone had to step up to take care of them. Estate planning does not just mean deciding what happens after you die; it also means deciding what happens if your health begins to decline. If there is no plan in place for declining health, it will be up to the family to decide what happens. Even the closest of siblings can begin to resent one another if they feel that their parents' care is not being handled properly.
Although it is fictional, the feud in This is Us between the siblings regarding their mother's care is an accurate portrayal of what can happen in these situations. The siblings argued on what kind of medical treatment their mother should receive, and again on where she should live and who should look after her. Although all of the siblings had the best of intentions and loved each other and their mother, the feud nonetheless happened. The mother sensed the feud would escalate once her diagnosis advanced, and so she decided to name her daughter (her most level-headed child) as her healthcare power of attorney. Although the siblings still butted heads with one another, the daughter was able to carry out her mother's wishes.
There are plenty of other examples in books and TV of families feuding over a loved one's care or death. Talking about these hypothetical situations might make it easier to begin the conversation about aging and death.
3. Ask what would happen to their children, pets, and home if they were in a medical emergency 
While discussions about aging and death might be intimidating, discussions about medical emergencies might be easier to handle. Medical emergencies can happen to anyone at any time. Our office even recommends that eighteen year olds get power of attorney documents in place, as it is important for them to have someone able to speak to medical professionals on their behalf in the event of an emergency. Since medical emergencies can happen to anyone, loved ones who do not like having their age pointed out might be more receptive to the conversation. If you know your loved one is anxious about having a stroke or falling down stairs, and tends to avoid or shut down conversation about either of those scenarios, it might be a good idea to use another medical emergency in your conversation (like a car accident, for example). While it is important for your loved one to confront their anxieties, it is not always our place to force them into a confrontation. Using a more neutral example (like the car accident) instead of one they constantly worry about might be a good way to ease them into the conversation.
4. Ask if they can show you where their estate planning documents are 
After signing estate planning documents with our clients, we tell them to please let their family know their wishes and how to find the original documents. After all, the estate planning documents are only as good as the family's ability to find them. In the event of a medical emergency or death, the signer of the documents will not be able to locate them. If no one else knows where they are or how to find them, the documents become effectively useless. It is therefore of the utmost importance that loved ones know where to locate the original documents. If you know or suspect that your loved one already has a plan in place, ask them where the documents are and how they plan to transfer the documents into the right hands in the event of an emergency or death.
For more information on how to talk to your loved ones about aging, illness, and death, we encourage you to check out The Conversation Project.